BOTOX® COSMETIC & DYSPORT®
BOTOX® injections are the most popular cosmetic treatment in the world for a good reason. They work. This aesthetic injectable is a potent cosmetic wonder drug that can safely and effectively minimize crow's feet, worry lines and other annoying lines and wrinkles that are often age and stress related.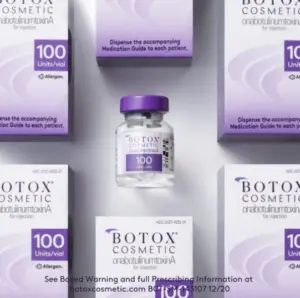 Naturallyou offers BOTOX and Dysport injections at our Greenwich, CT, practice to help patients achieve a fresher, more youthful profile. They are a wonderful option for many of our patients because they can be done with minimal interruption to a busy schedule with little or no recovery downtime. They are also subtly transformative, not dramatically altering one's appearance the way some more invasive procedures do.
Who Is An Ideal Candidate For BOTOX And Dysport?
Adults who are frustrated with the persistence of dynamic wrinkles may be excellent candidates for BOTOX or Dysport injections. Some of our clients obtain treatment to prevent the early onset of such lines and creases. In any case, we perform a thorough consultation to discuss concerns and desired outcomes. A brief medical history is also an important aspect of ensuring a person is a good candidate for treatment. If you have a known allergy to clostridium botulinum, we can work with you to find an alternative method of achieving your cosmetic goals. BOTOX and Dysport are also not suitable for women who are pregnant or breastfeeding.
How Safe Are BOTOX And Dysport Injections?
Both BOTOX and Dysport underwent extensive clinical trials before gaining FDA approval. Before their introduction as cosmetic injectables, the base ingredient of these wrinkle-reducers, purified botulinum toxin, had a long history of therapeutic use. Over the past several decades, this neuromodulator has been used clinically in the treatment of blepharospasm, migraine headaches, and other chronic muscular conditions. In the early days of cosmetic use, spanning nearly 15 years, only 36 adverse reactions were reported. Since their FDA approval, BOTOX and Dysport have been administered millions of times with very few instances of complications.
Botox Before & After Photos
Photos courtesy of Allergan. Keep in mind that each patient is unique and your results may vary.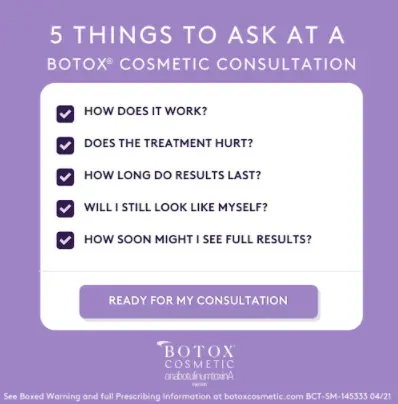 Patients who come in for BOTOX injections often ask about the differences between Dysport and BOTOX. At Naturallyou we offer both because our team finds both products produce wonderful results and we like to offer our clients options. Both products use the same active ingredient—botulinum toxin type A. They also work much the same way to produce results with similar staying power. This varies from patient to patient, but is typically about four months in duration. There are some minor differences in the products which Terry Conrad and her team are happy to discuss during a consultation. For example, Dysport's consistency is thinner, which tends to make it a better option for treating larger areas of the face.
What Are The Potential Side Effects For Dysport And BOTOX?
These drugs work on the muscles around lines and creases to relieve chronic contraction. Careful injection techniques inhibit the spread of botulinum toxin to other areas, so potential side effects are usually limited to the treatment area. Many patients receive injections without perceptible consequences. Some develop minor swelling and redness at injection sites. Side effects like headache or minor flu-like symptoms are also possible but are less common.
How Many Injections Of BOTOX And Dysport Will I Need?
The number of injections needed varies depending on the extent of improvement desired and whether or not we are treating multiple areas. Studies suggest that, on average, a person may receive 10 to 30 units of BOTOX to address the forehead area. Our best estimation of injections and units comes from our thorough consultation and examination with you in our comfortable office.
Is BOTOX And Dysport Poisonous?
While it is true that botulinum toxin is known to cause botulism, both BOTOX and Dysport have been meticulously formulated to use the minimum amount of toxin to achieve optimal results. The amount of purified toxin in each treatment is so minute that patients rarely exhibit side effects beyond some swelling and redness.  
Though rare, allergic-type responses are possible and require prompt medical attention. Patients should seek treatment if they experience any of the following after receiving BOTOX or Dysport:
Difficulty swallowing
Difficulty breathing
Difficulty speaking
General, noticeable weakness
Vision problems like double-vision
Loss of bladder control
What Our Patients Have to Say
"Terry is an excellent injector who leaves me satisfied with my results EVERY time. She is very honest and will tell me if I don't need any treatment at the time (vs. other doctors I've seen in the past who will take my money regardless). She spends about 45 minutes with me during every visit and NEVER rushes. She takes an enormous amount of pride in her work, which is why the results I achieve with her are amazing every time!"
5-Star review on HealthGrades.com
What To Expect From BOTOX & Dysport Treatments
BOTOX and Dysport treatments at Naturallyou typically take about 15 to 20 minutes and don't require post-treatment downtime. Most clients return to the office or their day's activities after injections, making them one of the most popular procedures offered at Naturallyou.
Terry Conrad, A.P.R.N. will carefully explain the procedure to patients, who will also have been given pre-treatment protocols before their appointments. Following these protocols helps patients cut down on potential side effects such as slight bruising or swelling.
On treatment day, Terry will thoroughly clean a patient's face, making precise markings to show the specific injection locations. She then injects the medication using a small needle. Most patients experience a slight, quick stinging sensation. Post treatment, we recommend applying a cold compress to the treatment area to help reduce any soreness or residual swelling. Some patients experience minor redness or bruising, but these are easily concealed with makeup.
OWNER & MEDICAL AESTHETIC DIRECTOR
Terry treats every patient who comes to Naturallyou like part of her family, spending as much time as needed to ensure a safe, positive experience and outstanding results. She's one of the top injectors in the country, selected by product manufacturers to train other aesthetic professionals.
What Are The Benefits Of BOTOX & Dysport?
BOTOX and Dysport injections minimize the appearance of wrinkles that gradually emerge from years of squinting, smiling, frowning and all the emotions of a full, well-lived life. These are called "dynamic" wrinkles, as opposed to "static" wrinkles caused by sun exposure or the skin's natural aging process.
BOTOX and Dysport are used to treat dynamic changes such as:
Crow's feet at corners of the eyes
Vertical frown lines (sometimes called the "11s")
Horizontal forehead wrinkles
Fine lines around the mouth
Dimpled or wrinkled chin
BOTOX and Dysport don't produce immediate results. It usually takes 5 to 10 days to see the full effects of either treatment. Results are best maintained with a regular schedule of follow-up treatments to maintain your more youthful appearance.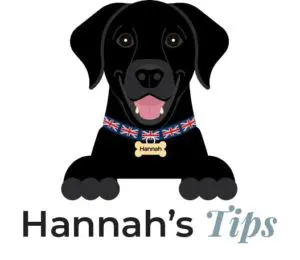 Here are some things to remember when you come to visit us at Naturallyou for BOTOX treatments:
Consider combining fillers with your BOTOX or Dysport injections for a nonsurgical "liquid lift." Terry Conrad is known for her artful approach to facial rejuvenation using customized treatment plans to give faces a firmer, lifted look without surgery. She uses fillers such as JUVÉDERM® or Restylane® products to add immediate volume to smooth away wrinkles. When combined with products such as BOTOX or Dysport, the results can be transformative, taking years off the face.
Consider making BOTOX part of your wrinkle prevention arsenal. Preventative BOTOX is a savvy youth-saving strategy now being used by men and women in their late 20s or early 30s to keep their skin smooth and wrinkle free longer. Starting a regimen of BOTOX injections early can prevent wrinkles from progressing and can be especially effective when combined with an excellent skincare regimen and healthy lifestyle.
Can You Exercise After Receiving Botox And Dysport?
Patients are usually advised to wait at least 4 hours after their BOTOX or Dysport injections to exercise. This includes doing yoga or other activities that involve bending over. Ideally, patients can wait 24 hours to allow their injections to absorb fully into muscles.
Botox And Dysport Aftercare
There are few restrictions after BOTOX or Dysport treatment. Most revolve around not disrupting the treatment area. Because we treat the facial muscles with these cosmetic drugs, it is necessary to avoid pressing on the face in any way. No massage, sleep on the back if possible, no dental treatment the same day as injections. To allow the neurotoxin to successfully bind to receptors in the muscle, patients should avoid all activities that increase circulation. Walking is fine. Exercise and excessive heat are not. A few hours after getting BOTOX or Dysport, it can be advantageous to gently move the muscles that have been treated. This may maximize product absorption for optimal results.
Women and men considering getting BOTOX or Dysport injections in Greenwich, Stamford, or elsewhere in the region, often turn to Terry Conrad and Naturallyou to learn more. You can 
request an appointment
using the online form or call us at
203-340-9998
to schedule an appointment.